Holiday Coffees at Habitué
The book you've been wanting to read is in hand. The fire is crackling while the snow is falling outside. You're inside snuggled under a warm blanket. Everything is great, but SOMETHING is missing. What could it be?
Maybe it's the taste of cinnamon and nutmeg in a cup of coffee? If that sounds like a heavenly treat, try our Fireside Blend. With not-so-subtle hints of cinnamon and nutmeg, it's definitely going to put you in the holiday spirit.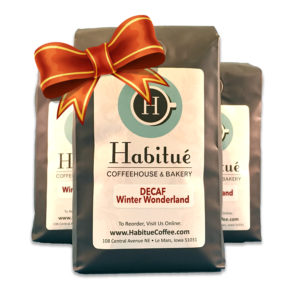 Just in case you're one of the seven people in the world that don't like cinnamon and nutmeg, you could try our Holiday Blend. With festive notes of Chocolate, Cherry and Amaretto, this one is sure to jingle your bells this Christmas season. One taste will tell you why it's our best-selling seasonal coffee. We also have a holiday twist on our all-time best selling coffee. Our Winter Wonderland takes our wildly popular Signature Blend and adds a twist of Coconut to the Caramel and Hazelnut flavors. A sure bet this Christmas season. One last festive flavor… our Snickerdoodle coffee tastes just like Grandma's special cookies. With hints of cinnamon and
All of our coffees are available to enjoy at home. We have them pre-packaged and ready for you to enjoy. All of our seasonal coffees above are also available in decaf as well. Whatever coffee you land on, you'll be pleasantly surprised by the holiday overtones and savor the sweetness in each cup.
You can pick up any of your favorite coffees in our store or order them online by following this link.