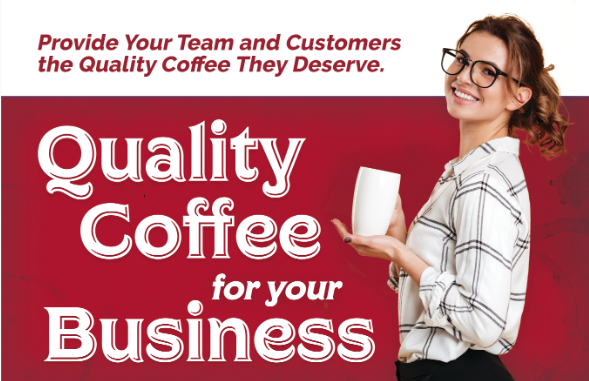 Quality Coffee for your Business
No matter how large or small your office or business is, you can enjoy freshly roasted coffee, simply and conveniently. We are able to provide regular delivers of fresh coffee, tea, beverage supplies, and set you up with quality equipment to make the brewing process as easy and convenient as possible.
We've been serving some of the best coffee in Siouxland since 2010. Known for our coffee excellence, we work with our roasters to find only the finest coffees and sweetest flavors to be enjoyed to the very last drop.
With a combined total of over 35 years immersed in coffee, our team can help!
Choose one of our popular flavors or we can create your own unique taste.
Bulk discounts are available based on monthly minimums.

"It surpassed all our expectations and the cake was delicious! You are an artist! Thank you so much for making our wedding such an elegant affair."
"I could not have imagined a better group of people to work with, a more beautiful cake, or a more tasty cake for my wedding day! I would recommend Cakes to Remember with no hesitations!"
"Cakes looked and tasted amazing! They went above and beyond my expectations! I had 53 different cakes as centerpieces and they pulled off my vision beautifully."
"Our cakes were delicious and beautiful. It was exactly what our daughter and new son-in-law were hoping for. Thank you for all you did. Your work is perfect, artistic and delicious."
"Thank you so much for the prayer book and delightful desserts. Everything was delicious and a big hit! It was a blessed day!"
"Your cakes far exceeded our expectations! They were beautiful and delicious! We loved the presentation of the bride's and groom's cake. Too many compliments to count!"