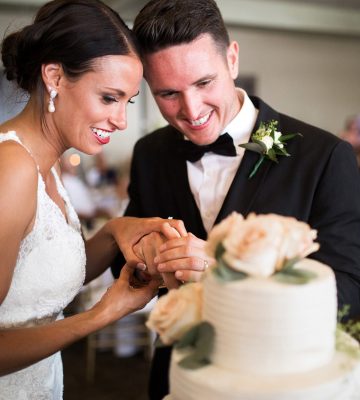 A Cake to Remember for a Day You'll Never Forget
Ever since you were a little girl you dreamed about the perfect wedding. At Habitué Coffeehouse & Cakes to Remember our mission is to take your dreams and make them a reality. We can help you create the cake that fits perfectly with your chosen theme or color scheme. We craft your dream cake with the best ingredients with care and craftsmanship. We decorate it to make it beautiful and we deliver it to your special destination.
At Cakes to Remember, we consider it a privilege to be able to provide a delicious cake for your special day. We can help you create the cake that fits perfectly with your chosen theme or color scheme. If you like, we can also work with your florist to incorporate fresh flowers into your cake design. We've successfully worked with hundreds of brides on their special day, each one special and unique.
Schedule a free tasting, share your vision of your perfect day with us and we can work with you to bring your dreams to life!

Do you just do wedding cakes?
While we have always excelled at wedding cakes, our repertoire is filled with cakes for all occasions. We can help you with cakes for special celebrations like birthdays, anniversaries, retirement parties, baptisms, office parties and open houses. We also can supply you with luscious cupcakes and decadent cookies as well as mini desserts for your reception. Our services don't end there. We have additional packages that will make your day go smoothly. Talk to us about providing you with fresh coffees, boxes of muffins and other delectables on the morning of your wedding.
What designs can we create?
Each cake is custom-designed to fit your every wish. We can make suggestions, show you photos of cakes, work with your fabric or paper samples or make your own vision come to life.
How much do they cost?
Pricing is based on the number of servings and the design.  We will not be the cheapest cake, on purpose, because we are focused on quality and excellence along with craftsmanship.  But we can spend as little or as much of your wedding budget as you want!  Depending on the icing, like buttercream or fondant – and the amount that you need for your wedding – and then there are also details like how elaborate your design is and how big or small the cake will be.  We can discuss the details and the prices in your consultation.
When should I order my cake?
You will need to book the date as soon as possible because we want to get your date on our calendar and our weekends fill up fast and far ahead.  For the details of your cake, we want to see you 12 weeks ahead.
What should I expect at a wedding cake consultation? Is there a charge?
Our consultation is a beautiful experience that you can look forward to!  We will meet with you in our Bridal Suite and our goal is to bless you and cause you to feel like a princess!  You will be pampered with one of our coffees or lattes and there will also be cake testing!  The goal of our time together is for you to pick out your dream cake and know that you are in a sweet time of life, we look for ways to encourage you and the beauty that you bring to your day!  You are being prepared to be a beautiful bride!!!
To reserve your date on our calendar we will need a $150 non-refundable deposit and it is applied to the cost of your cake.  The balance is due one week before the wedding.
Can you copy a picture of my dream cake I saw in a magazine or online?
We will do our best to deliver what you want and we will always be honest in our communication with you.  We want to be your baker of choice and it is all about authenticity in our relationship with you.  We want to be at your table for every occasion, as your family grows through the years!
Do you deliver?
We deliver and set up and we even have multiple plans that include coming back to pack up your leftover cake and clean everything up so you don't have to!  When it comes to delivery and set up, all you have to do is point your finger and tell us where it goes! We'll deliver your special cake to you whether it's in Le Mars, Sioux City, Sioux Falls or Omaha!
Do you have rentals and backdrops to make my cake look beautiful?
We have a large variety for any type of wedding and our cakes are always beautifully displayed. We will take care of the backdrop and anything that you choose to make your cake as beautiful as your dreams …we have skirting, tablecloths, drapes, chandeliers, candelabras, votives, cake bases – silver, gold, ivory and others! So much more!

"It surpassed all our expectations and the cake was delicious! You are an artist! Thank you so much for making our wedding such an elegant affair."
"I could not have imagined a better group of people to work with, a more beautiful cake, or a more tasty cake for my wedding day! I would recommend Cakes to Remember with no hesitations!"
"Cakes looked and tasted amazing! They went above and beyond my expectations! I had 53 different cakes as centerpieces and they pulled off my vision beautifully."
"Our cakes were delicious and beautiful. It was exactly what our daughter and new son-in-law were hoping for. Thank you for all you did. Your work is perfect, artistic and delicious."
"Thank you so much for the prayer book and delightful desserts. Everything was delicious and a big hit! It was a blessed day!"
"Your cakes far exceeded our expectations! They were beautiful and delicious! We loved the presentation of the bride's and groom's cake. Too many compliments to count!"